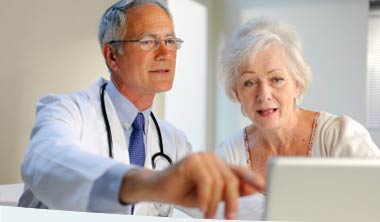 Corticosteroids are widely prescribed worldwide. It is estimated that, at any point of time, about 1% of the general population is receiving oral corticosteroids.
Good to know
This website aims to help patients and their families by publishing practical information about corticosteroids and corticosteroid therapies. However, this website is not intended to replace the advices
Risk factors
The aims of this study was to evaluate the incidence of glucocorticoid-induced diabetes mellitus (GC-DM) by repeated measurements of the postprandial glucose and detect predictors for the development of GC-DM.
Inpatients with rheumatic or renal disease who received glucocorticoid therapy were enrolled in this study. Clinical and laboratory parameters were compared between those who developped GC-DM and those who did not.
RESULTS: During a four-week period, 84 of the 128 patients (65.6%) included in the study developed GC-DM. All patients were diagnosed based on the detection of postprandial hyperglycemia. According to the multivariate analysis, an older age (more than or equal to 65 years), higher HbA1c level (more than or equal to 6.0%) and lower glomerular filtration rate (i.e, renal insuffisiency with a glomerular filtration rate <40ml/min/1.73m(2)) were identified as independent risk factors for GC-DM. The risk for the development of GC-DM in the patients with at least one of these three risk factors was 2.28. The dose of glucocorticoids was not statistically related to the development of GC-DM. to access the abstract of this study, click here