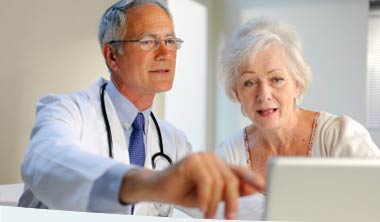 Corticosteroids are widely prescribed worldwide. It is estimated that, at any point of time, about 1% of the general population is receiving oral corticosteroids.
Good to know
This website aims to help patients and their families by publishing practical information about corticosteroids and corticosteroid therapies. However, this website is not intended to replace the advices
Oral corticosteroids could be as efficient as intraveinous corticosteroids for the treatment of multiple sclerosis relapses
High doses of intravenous methylprednisolone are recommended to treat relapses in patients with multiple sclerosis, but can be inconvenient and expensive. This study aimed to assess whether oral administration of high-dose methylprednisolone was non-inferior to intravenous administration.
This study is a multicentre, double-blind, randomised, controlled, non-inferiority trial at 13 centres for multiple sclerosis in France. 199 patients with relapsing-remitting multiple sclerosis were randomly assigned to either oral or intravenous methylprednisolone, 1000 mg, once a day for 3 days. The primary endpoint was the proportion of patients who had improved by day 28.
Between Jan 29, 2008, and June 14, 2013, 100 patients were randomly assigned to oral methylprednisolone and 99 patients to intravenous methylprednisolone. The proportion of patients who achieved a significant improvement of their functional status was not inferior in the group who received an oral treatment by comparaison to those treated intravenously. Rates of adverse events were similar, but insomnia was more frequently reported in the oral group (77 [77%]) than in the intravenous group (63 [64%]).
In conclusion, oral administration of high-dose methylprednisolone for 3 days was not inferior to intravenous administration for improvement of disability scores 1 month after treatment and had a similar safety profile. This finding could have implications for access to treatment, patient comfort, and cost, but indication should always be properly considered by clinicians.